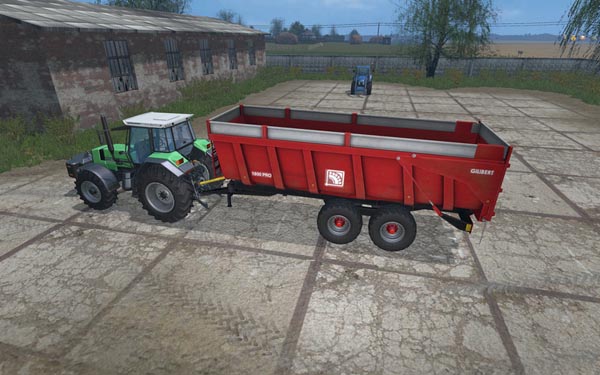 Following the publication of the converted Hagenstedt-Map for LS15 is in me actually something like nostalgia come up.
So I made ??myself look at the search for my then favorite entry-tipper … There are indeed already it – somewhere out there – but I did not like so …
So I made ??the model of my plate (Thanks Giants), and the outcomes were achieved:
The Gilibert 1800 per tandem trailer from LS13 – converted for LS15
Price 21,000 and maintenance 20 – unchanged
Loading capacity: 24,200 – unchanged
New tires for LS15 Standard: Trelleborg Twin Radial 560 / 60r22 / 5 – with red hub
Tire tracks and tire dust
Indicators for LS 15 Standard
Fruit varieties (not according to what standard LS15 material Holder terms):
wheat barley maize rape sunflower potato sugarbeet woodchips chaff silage forage sand lime fertilizer
Yet I have given me trouble in the built-Planning for the supplemented fruit, I hope you like it anyway
The Abladepartikel are probably out of date …
SP / MP / DS
Login: flawless
DeDi: No Issues
What he did not: Dirt texture, is therefore not dirty (the wheels already)
Note: Probably the true Parallelage the frame no longer, either by the new tires or slightly elevated Attacher to the tugs. As a result, the first runs of the trailer only on the rear axle, and the front wheels suspended "in the air". Under load this run then as usual. I felt a thousand times trying to find the correct coordinates – and then decided that's not a bug, but a feature – load-dependent front: D
The additional types of fruit are the ones I most need (and exclusively). Therefore there are no more – and no less.
The trailer is thus well suited for Bantikow- and for Baldeykino map.
Who wants to invite more, you can either install or use the Multifruit Mod by upsidedown
Credits:
Model / texture: Giants
XML's: Land-Ei