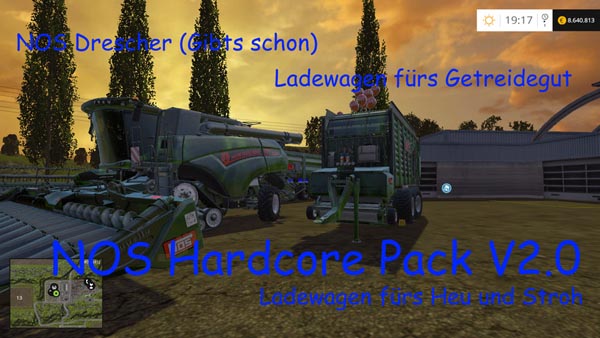 The time has come my NOS Trekker gets young, here in my MOD Pack a thresher, cutting, car, and a surprise-Mod's inside.
Soso I became finally finished, they had to have been re-Aufgebaut.Sie ??from the game and converting all 3 were completed faster the Drescher now going about 76 km / h and the car goes about 145 KM / H.Scheiben were tinted (Mich it annoying when the sun Seems clean) can be removed if necessary Are you .And hat really I myself had fun harvesting after about 10 hours my fields harvested.
For this work, I had 2 months My Best gegeben.dieses Mod Packet was my most beautiful work I ever make could.
Here the data from Drescher Dinosaurs
Costs about 500,000 euros
ne airbrush painting was missed him.
Lights were upgraded to red.
Interior was renewed Everything. with leather seats
The granary has been extended beyond 1 million liters. so that you do not constantly have to entlerren the loader, but when there is a field ready, you can lerren dan his grain tank.
There is also a 2 in 1 cutting for free as well as a car
soso which were until now all the data I einfiell.
Then the data from the car.
It's a Lizard Pick-Up
He was newly repainted (color choice is no longer required.
New BMW E34 V8 was installed.
NOS bottles were mounted top
Ne brochure from the Corsa D If the back of the rear bench seat
He will also be provided free as a thank you to purchase a NOS Drescher
Lights were converted red.
And new remuneration was in nor related to red-blue
And finally, a cutter
Was repainted only in dark green
Has an automatic trailer
And he is as a thank you for the free Drescher.
These are the real names.
NewHolland CR10.90 NOS Hardcore
NewHolland Superflex Draper 45FT NOS Hardcore
Lizard PickQup NOS Hardcore
Credits:
Urrmoddel : GIANTS
Komplettes Tuning : Corsa D Fahrer
Sounds : Start sound vom Nachbarn (Danke dir Franz für die Aufnahme )
Konvertierte NOS Flaschen : MTL Modding Team (Danke an euch das ihr sie konvertiert habt)
Und mein Kumpel: für die Unterstützung und idde.