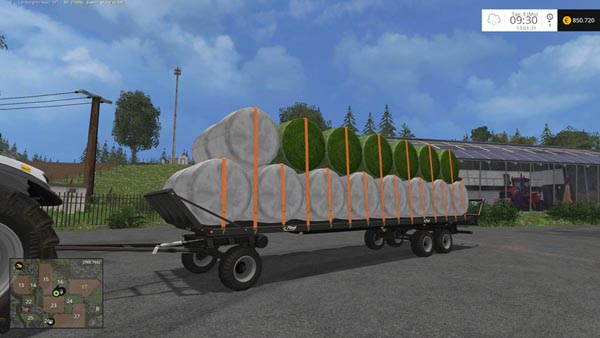 Huhu @ all, here I finally my Fliegl DPW 180 in the version 1.0 for you. He takes:
24 square bales
30 round bales (also wound)
12 tree seedling pallets
12 Wool pallets
8 wooden pallets of Marhu's sawmill
12 pallets of potato Farmer_Andy's potato washing system
Still important to the pallets: Wool and wooden pallets are only accepted if they are full. Otherwise, the tension belts would not fit. Furthermore, one must charge the wool, wood or potato pallets not directly from Spawntrigger with the trailer. If one does not get to the game, that the pallet is gone and there is no new to, until the next loading of savegames. Therefore, this drive out of the trigger only by FL. Then there should be no problems. Found no other solution to date, unfortunately ..
It is the patch 1.3 Final requires! Otherwise, he is not in the shop.
Can you unload him etweder directly on the platform, to the left, right or rear. The floor should be flat when, anblädt left or right back, otherwise the bales or pallets can fly through the air or disappear under the ground! Furthermore always appropriate tensioning straps dazzle as soon as the trailer is loaded. It can be seen already in the pictures. This trailer is not MP-capable. However, you can save with a loaded trailer at last, as it is automatically unloaded on the platform. Same happens when it is loaded and you click on 'Cancel'. I think that was all .. Now even enjoy pallets and bales ride .. MFG IFKO
Credits:
GIANTS Software GmbH
Ifko[nator]
modding-welt.com