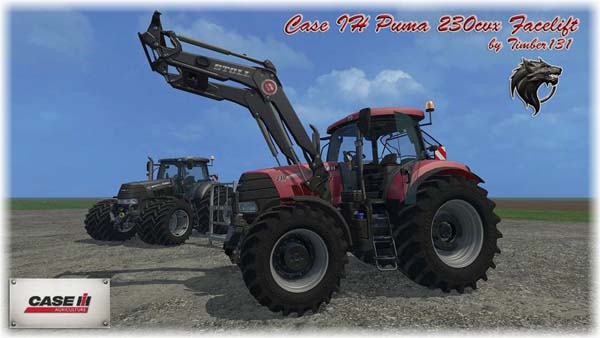 The Case Puma Pack is a facelift and more variant of 230cvx FL with new lights. In pack is included, Puma 230cvx Black and Puma 230cvx red and front loaders
The front power lift fold up automatically, but can be manually operated.
The model and driveability were further refined sound update with the slightly modified sounds of LudmillaPower. Of course, with release for which I am also here to thank him.
IC installed, door, rear window, roof windows open sunshade roof front window. Door from the outside by pressing the [R] to open / close, fender u. FL console from the outside by pressing the [R] on / off building land etc.
Dual tires to buy, warning signs can be folded inside and outside.
Lights hood Various small parts inside / outside, drawbar replaced by Hitchkupplung,
Height adjustable trailer hitch rear, mesh box can be added to the tractor via hydraulic,
IC control now saves the settings (door / window, etc. open / closed). Otherwise you just look at the pictures and / or later the video.
Credits:
Giants, Timber131, LudmillaPower, marcel r