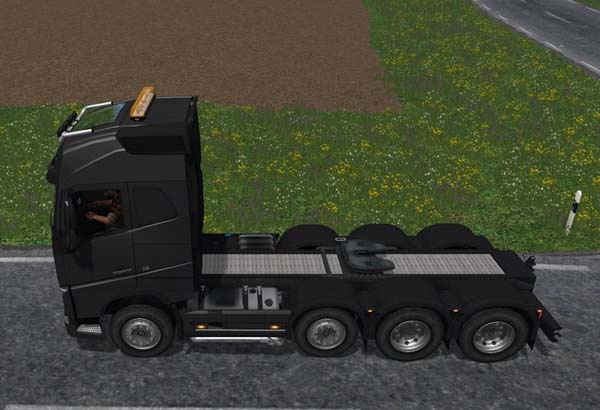 This is pack of two trucks. One is older Frame model with few fixes and new sounds. Another is new 3 rear axle version with turning liftaxle and moveable semitrailer saddle.
Known minor issues:
– Saddle returns to back position when leave game and come back. I am not scripter so can't really fix that but maybe someone write new script later and then issue will be solved.
– Liftaxle turns when lifted, again script thing I can't fix but if later new script comes that problem will be solved.
Unpack and copy to mods folder
This truck is option to use AR containers, platforms, tanks and other AR things. Thank you to gnescher for those. Truck does not get dirty and not possible to change color because of multiple materials in single object and VehicleShaderDirt wont work then. Tires get dirty. If someone knows way to make dirt work with multiple materials in single object, send me PM.
Driving lights and worklights have shadowmap on so it could affect to performance slightly.
Max speed 80km/h
This mod is only truck. AR containers and other things you can download from these links:
I also recommend getting:
Trucks could feel little overpowered, but they are designed to be able to pull heavy load when use
Original truck model: Ombelis
Credits:
Ombelis (original model)
Smitty1203 (light bar)