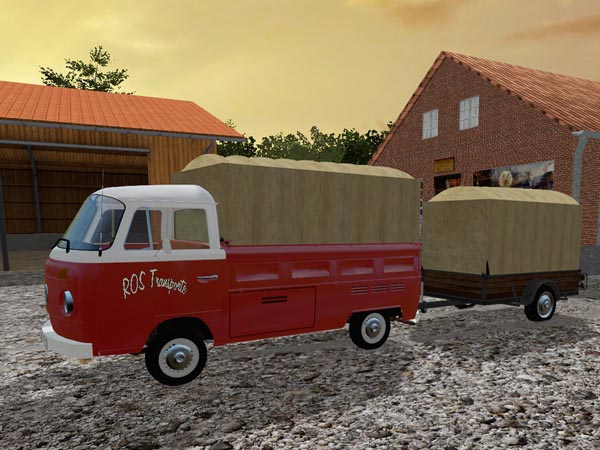 ROS VW bus and trailer
suitable for UPK Mods
————————————————– ———-
Are required (can be used) for:
Fertilizer and seed production
Can be used for:
and many others
For the transport of:
tomato chili cucumber kohlrabi carrot onion potato jam fruit wine, beer bread sandwich flour sugar salt olive oliveoel milk yoghurt apple pear strawberry plum cherry orange peach wheat beer beer wheat bread barleybread maizebread wheatflour barleyflour maizeflour sil salt oliva Olivka olivaoil oliveoil peach apricot pepper yogurt yogurt yogurtapple yogurtpear cherryyogurt apple pear strawberry cherry plum seeds conmilk seeds2 fertilizer grapes, wine
After the unrestricted model of "MODALL":
The VW T2, also known as the Bulli, was built from 1967 to 1979.
This is the 1972 VW T2b Flatbed with tarpaulin and matching trailer with canvas.
Thanks a lot for this !!
Credits:
modall, Rosenthaler