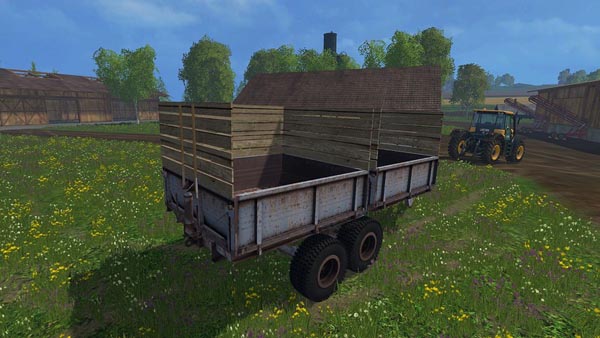 Here I present to request the two "PTS 9 Tandemtrailer" available.
Both models run on standard script with all features.
Features:
Tire tracks and driving dust
fully animated (bolt, bolts, rods)
Swing axle
Dynamic Fillplane
Shaderparticle
Washable (dirty)
Used texture
etc.
The trailer with flat wooden structure has a load capacity of 15.5t.
Downloadable Fruits: wheat, rape, maize, barley
The trailer with high wood structure which is open on one side, has a load capacity of 20t.
Downloadable fruits: chaff, potato, sugarbeet silage, wood chips
Both trailers are equipped with the standard trailer Attacher and TrailerLow Attacher
If the Ankuppelsymbol appear is appended as a rule to the TrailerLow Attacher, ride your back of the trailer will be appended at the top of hitch.
Will you have to try.
Note:
The patch 1.3 Final must be installed!
Otherwise the trailer does not show up at the store.
Credits:
Norton, Gosteh, ANDREI1994, Mad Dog