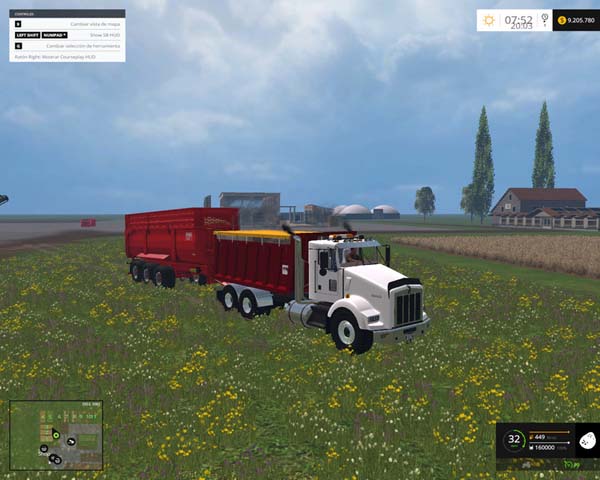 I bring the V2 VERSION KENWORTH DUMP TRUCK WITH ALL REPAIRS AND REQUESTED. modeling collision ON THE FRONT, AND NO DELIZA IS THE WAY AND HANDLING IS FIX A slide MULTIPLE DIFFERENT TYPES OF TRAILER FOR TOWING are includes.
GIVE THE GRACE A Friend burn HELP TO CORRECT.
Traigo el camión de volteo Kenworth en la versión V1, con capacidad de 80.000. LISTROS y se puede transportar diversos productos, tales como: trigo violación de ensilaje de maíz chaff cebada remolacha patata astillas grass_windrow barley_windrow forraje estiércol cemento forage_mixing grava hormigón arena de girasol.
Este camión se lo puso amimacion en velocidad tacómetro, Revoluciones y conbustible. Este camión trae tracción en su 10 neumáticos, ya que es 6×6, tuvieron sus tres ejes están activos y tiene escape dinámico y polvo en el aire, dejando a las brasas en las carreteras, con un montón de arrastre, ya que tiene un motor de 1000 HP y puede alcanzar una velocidad de 85 kilometros / s, se puede mantener el vertedero elevada y cubierta con carpa.
Credits:
Anpaes