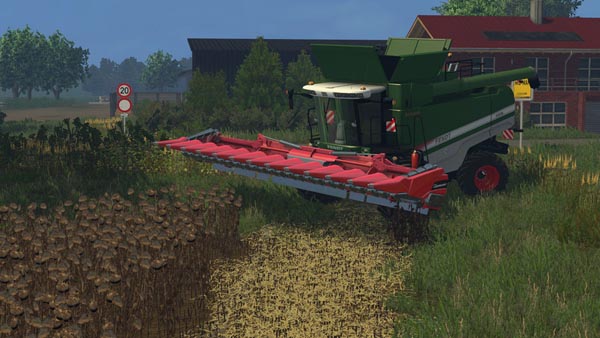 Hello! Here I offer you the manufacturer Geringhoff a Maispflücker Pack. It is the corn picker "Geringhoff Mais Star Horizon 12-75" with a working width of 12 rows and 9.0 m and a 6-row maize header, the "Geringhoff Mais Star Horizon 6-75" with a working width of 4, 5 m.
Both reapers are based on the original New Holland maize headers. Unfortunately, it always looked a bit strange to use them with another combine maker. Unfortunately, the choice of small and medium-sized corn headers are collapsible is not particularly large. Therefore, they were transformed into a Geringhoff. To get into the perfect enjoyment, the reapers are equipped with color choice and are therefore likely to suit any kind of combines.
The sunflower textures were installed on both corn headers. The functionality is based on the "Multifrucht reapers Mod" by "ls-nachrichten.de". (Http://www.modhoster.de/mods/multifrucht-schneidwerke) The mod is for the functioning of sunflowers textures Although no longer mandatory, but can be used for all other reapers. Specifically, when oats, rye, etc. are installed on the maps.
Credits:
ATF_MatzeT.