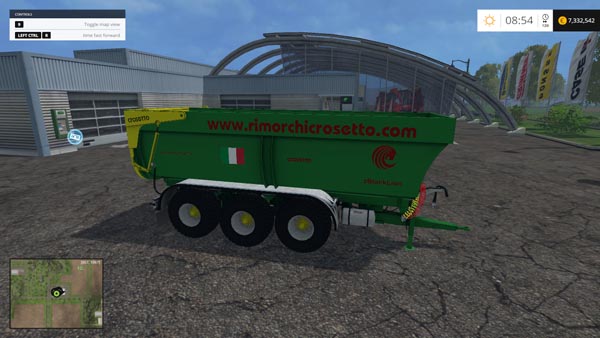 The Crosetto CMR 180 trailer's maximum capacity is of 36m³.
The trailer is equipped with round container built with wear protection materials and galvanized supergates.
INFO:
Capacity with supergates: 36000L
Capacity without supergates: 29000L
Features:
Washable
Dynamic leaf springs
Variable Body (with or without supergates)
Chose the type of unloading
Scale 1:1
Planes for:
wheat rape maize barley chaff potato sugarBeet silage woodChips grass_windrow dryGrass_windrow forage forage_mixing wheat_windrow barley_windrow seeds manure sand
Mod Requires:
Credits:
Model: zBlackLion
Textures: zBlackLion
Dirt/Specular: zBlackLion
In-Game/Animation: DD ModPassion
Thanks to Crosetto, SkyNight and Dani81 for the support.