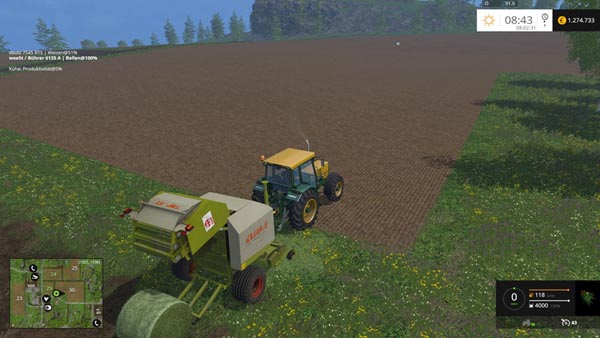 Finally a Claas Press and then x² error in it.
The Urmodel this news is of Sotillo and I have used already in LS2013.
I have now done just the fault of the LS15 away.
Everything is now in standard script. (Unfortunately without the beautiful features of the 13er)
The modDesc was rebuilt after original artwork by FSM team and should be nu entmüllt and properly.
Some pictures have been deleted because they were obsolete.
Corrects the errors in the names of the images.
And (I know not how many times) fixed the erroneous paths of schemaOverlay`s.
All in all, really not magic.
What has taken a long time. How much power and how much?
So I have read a bit in forums. If you want to work seriously with the part so you should have about 88KW Zapfwellenleistug. With wehniger also goes but then one does not manage the pressure and the bales are rather loosely as fixed. Most data were talking about the 120HP tractor power.
Price: Since the entire model's hand I have a reasonable price on the net looking for.
Finally for wehnig reader.
Price in shop € 11,900
Usage charges per day 20 €
Required tractor power 125HP
used skin
permanent dirt
not washable
no lighting
no indentation particle system
Credits:
Urmodder ist Sotillo von SMI (Sotillo Modding)
LS15 fix ist von mir also wee5t