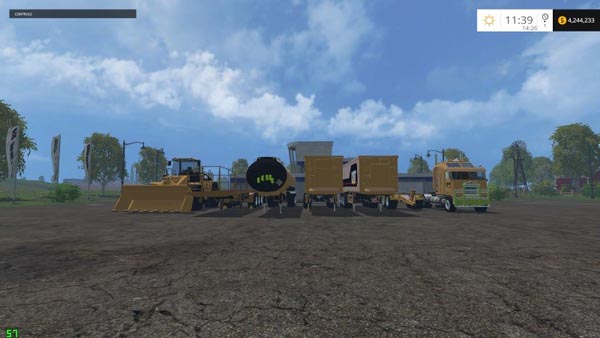 After many requests for the "Cat Fleet" for Farming Simulator 2015 we are pleased to finally release Part A. This pack containes truck, trailers and the 980H All Wheel Steer (AWS).
The other mods are quietly being converted information and will hopefully be available in the very near future.
PAK A FEATURES:
Cat Kenworth 100 series: All wheel drive – New lights (Improved Bel3 script) – New windows – Tilting Cab and Blender work to interior and body.
Cat SRB35 Trailers A and B Logos – Capacity = 50,000 L – FS15 Grain plan – All default and feed fruit types – New lights – Blender work.
Cat Bulk Liquids Transportation (BLT) – Improved scripts and animations – Fruit type = Water and Slurry, Biofuel will follow in the next release. – Blender work.
Cat Flatbed – UBT updated script for automatic bale collection and wool.
Cat 980H Wheel loader – Capacity = 25,000 L – FS15 Shovel grain planes – All default and feed fruit types – New windows – New Lights.
Cat Dolly – Hmm does the job …
VERY IMPORTANT NOTE: You will need to vary the throttle speed due to speed capability and FS15 physics.
Recommended Mods – zzz_Drive Control Mod, Mod zzz_Individual Hud Fruit and No collision Camera Mod.
Special thanks to Goelm for Scripting, Lighting and Blender work without him the mods would not be possible.
Credits:
Giants Software
Sven777B – Bel3 script
Oxtar – Original K100 and Tanker models