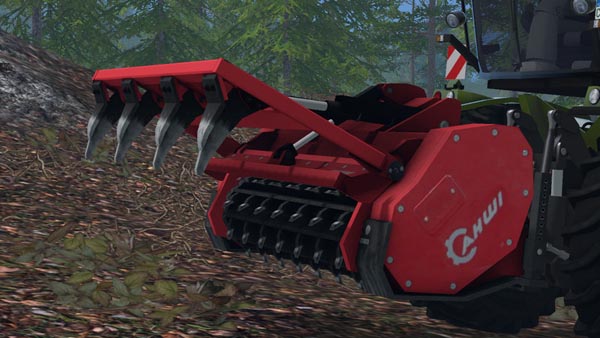 Here's a forestry mulchers Ahwi the brand, thanks to its excellent impact significantly better forest areas fit than the original toy.
The forestry cutter does what is expected of him, and this requires a recommended capacity of min.260 HP.
Level of detail of the model was kept low because …
… I had little visual material disposal (deviations from the original available!)
… Should be done the mod fast (Modding time: 11.01.15-30.01.15)
… I first my UV map myself down (not auto-mapping)
… I wanted to familiarize myself about this mod with the new texture system. (So ??simple dirt Map)
It is based mainly on original scripts, so the collision the flap incorrect easy unfortunately is possible (only Optical). Is controlled with mouse control. If it is hollow over stumps, it can happen (as in the originals too), that while he milled, the stump but does not disappear. then go as deep as possible so that it is easy on the stump.
Credits:
Modell, Textur, Ingame, Script: Patar
Originalteile von Giants Software wurden verwendet.